Three Field Guides--A Review

All birders find field guides indispensible.  The novice goes to a field guide to try to find a picture that looks just like the bird he or she saw.  The expert birder, upon seeing an interesting bird, observes it for as long as possible while taking copious notes and making sketches or taking photographs.  Then, and only then, the expert consults one or more field guides and carefully compares the field description with the information in the guide(s).  Often the expert is attempting to identify a bird beyond the species level, to determine its subspecies or age class. 

I think it's safe to say that most birders fall between these two extremes.  We are familiar with the common species in our area of residence, especially in their most distinctive plumages.  We also run into problems with dull-plumaged species (such as eclipse-plumaged ducks or first-fall warblers), and with certain confusing groups such as gulls, shorebirds and the damned Empidonax flycatchers.  We'd like to develop the ability to identify these species with greater certainty.  We also see a lot of individuals at great distance or in flight, and would like to put names to as many of these as possible.  More than anything, if an unfamiliar bird shows up, we want to know what it is.  So, we always have a general field guide handy.

In the past few years, several remarkable field guides to North American birds have been published.  First was the Third Edition of The National Geographic Field Guide to the Birds of North America, a revision of the popular 1987 Second Edition.  More recently, intrepid birder Kenn Kaufman and bird nerd David Sibley have entered the market will impressive offerings.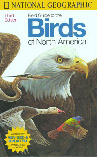 by Kenn Kaufman et al.

Houghton Mifflin, 2000. 384 pages.   0.79 x 7.53 x 4.51 inches

Kenn Kaufman's hitching and birding odyssey, Kingbird Highway, is certainly one of the books every birder must read.  Kaufman is also familiar from Peterson's Field Guide to Advanced Birding.  Now, Kaufman has his own general field guide.  The first in a series of Kaufman Focus

Guides, Birds of North America is aimed squarely at the novice or casual birder who can usually be found thumbing through the color plates in the hopeless National Audubon Society guide. 

At a comfortable pocket size, Kaufman is certainly the most compact of the three guides in this review.  It still manages to check in at almost 400 pages, and includes about the same number of species as Sibley's guide.  Kaufman deviates somewhat from official taxonomic order "checklist order" in birder-speak, and his classification system is intermediate between checklist order and the color-based Audubon Society approach.  In this guide, birds with similar appearance or behavior are grouped.  Often, this follows pretty close to the checklist, but it also means that birders looking up ducks will find grebes and coots nearby.  Kaufman calls these "Other Swimming Birds."  The pictorial table of contents features many of the most conspicuous and representative species in each group, and should be a big help for those who are unfamiliar with bird taxonomy.  Helpful notes are sprinkled throughout, and a 9-page section on birding basics follows the table of contents.  This information is useful, and includes advice on observation skills, optics, bird behavior and conservation.

The most distinctive characteristic of this guide is the use of digitally edited photographs.  While the photos are obtained from a number of sources, they are remarkably consistent in quality.  A picky birder would ask for a greater selection of photographs, with better illustrations of dull plumages, but that's why a picky birder should get Sibley.  The Kaufman guide should work wonderfully for those who see a bird and then try to match it to a picture.  But Kaufman's organization also subtly pushes birders to look beyond the general appearance of the bird, to appreciate individual field marks.

Major groups of birds have their own introductions.  This text should be helpful to novice birders, and has a conversational feel.  Descriptions of individual species, on the other hand, seem sparse and uneven, probably due to space constraints.  These deficiencies further point out the genius of Sibley's layout, which puts captions right next to the familiar "Peterson system" arrows that denote field marks.  Kaufman keeps the arrows, but their significance is sometimes ambiguous in the text.  The illustration of Downy Woodpecker has an arrow pointing to the bars on the outer tail feathers, but these are only mentioned in the text under Hairy Woodpecker, which lacks them. 

Range maps accompany each species, and are well-done and realistic.  Not only do different colors represent summer, winter and migratory ranges, but Kaufman also includes shading to indicate general abundance.

Kaufman's guide isn't the book of choice for sorting out Empidonax flycatchers or immature gulls, but it's a start.  "Sources of further information" are listed in the back of the book.  The first sentence of that section best captures this guide's spirit:  "If birding is a spare-time hobby for you, this may be the only bird guide you'll ever need."  Following in the footsteps of Peterson as well as "The Golden Guide," Kaufman provides a compact, complete volume that should be owned by every casual birder.

National Geographic, 1999.  480 pages,  1.05 x 7.98 x 5.01 inches

When this guide came out in 1999, many members of Oregon Birders On-Line treated it as a big event and a must-have book.  On these recommendations, and a first glance of my own, I purchased it.  This guide does indeed fill a niche.  It is pocket-sized (if you have large pockets), yet includes more species than either Kaufman or Sibley.  Not that these accidentals will matter to most birders, but there was a Common Greenshank in Northern California recently... 

The introductory text, explaining the layout of the book and basic terminology, is well-written.  The arrangement of species generally follows the AOU checklist order.  Illustrations are large and detailed, often showing feather edging and leg scaling.  A fair assortment of plumages is shown for most species, and there are helpful profiles of several groups in flight, including female hawks, ducks, shorebirds and immature guls.  It's a pity that more individual species weren't represented in flight, particularly among the songbirds.  The illustrations, while all accomplished, are the work of many different hands.  Occasionally, one species on a page stands out not due to actual field marks, but because it was drawn by a different artist than the rest.  This certainly does no favors in the field.

The illustrations of Empidonax flycatchers, criticized by some for being bright and unrealistic, actually do a good job of representing this difficult genus.  All empid bills are shown from below, illustrating this important field mark better than Sibley does.  On the other hand, immature gulls are treated much better in Sibley, as I found out when scoping some at a local pond.  The biggest deficiency is in the text.  Most descriptions are quite sparse, and field marks shown in illustrations are not always described adequately in the text.  As with Kaufman, this is probably due to space limitations, but the National Geographic guide lets its pictures do most of the talking.  Range maps are rather weak as well.

This is a good guide for its size; one that many birders will feel comfortable carrying into the field and getting dirty.  Despite its limitations, it continues to serve me well, even though I usually leave it at home now in favor of Sibley.  A fourth edition is scheduled to be out in November, with a rewritten introduction and other minor changes.


Written and Illustrated by David Allen Sibley

Knopf, 2000. 544 pages.  1.38 x 9.75 x 6.51 inches.

When The Sibley Guide to Birds first came out, I jumped in line to request it from the library.  I didn't think I'd buy a copy, but after a year I finally faced down its size and price.  Discounters take a lot of the sting out of the $35 list price, and since I usually carry a day pack anyway I've gotten used to the bulk. 

Sibley is imposing not just for its size but for its reputation as a guide for experts.  However, anyone who is serious about bird identification will appreciate the pains taken in its preparation.  Sibley's pages are arranged vertically rather than horizontally.  Usually, one or two species are profiled on a page.  A short description of habitat and occurrence is at the top of the page, followed by the species name and vital data (including average weight, sometimes the most helpful size comparison with other species).  One or more plumages are shown in flight (using small, less-detailed illustrations), often from two different angles.  All I can say is: "Wow!"  Sibley appreciates the challenge of identifying distant flyovers.  Below, different plumages are illustrated with the drabbest plumage at the top and the brightest (e.g., adult male breeding) at the bottom.  Range maps and an additional discussion (usually about plumage variation or voice) sit at the very bottom of the page. 

Checklist order is observed, but sometimes tweaked to put confusingly similar species next to each other.  Sibley's illustrations seem small relative to National Geographic's, and often less-detailed.  Paradoxically, they more closely match the normal level of detail visible through binoculars.  By omitting superfluous detail, Sibley focuses our attention on field marks.  Proportions seem better, and the details that are portrayed seem to be more accurate.  On in-field tests with immature gulls and shorebirds, Sibley's depictions made more sense and got me on the right track.  Because all of the illustrations are the work of David A. Sibley, there is a pleasing consistency between species.  One criticism of the illustrations has been the color balance.  Rufous tones seem too bright and unrealistic.

Despite the attention given to the illustrations, this guide's greatest strength is in the text.  From the inside of the front cover to page 22, the introductory material does a good job of explaining how to use the book, and imparts a weath of information about birds themselves.  Seven pages with large drawings are devoted to bird "topography" (external anatomy, particularly important when feather tracts are named).  Text also accompanies the illustrations; arrows to field marks are always accompanied by descriptions (see the review of Kaufman).  Now that Sibley has done it, this seems like a no-brainer. 

Sibley recognizes that, in trying to identify each individual to species, it is important to know how species can appear similar (rather than just learn the differences, which may be inconsistent or overlapping).  Each major group of birds is introduced with an illustration in bulk, showing thumbnail images of all the common species in a drab plumage.  Thus, 51 species of wood-warblers in first-winter female plumage are illustrated on two facing pages.  The reasoning is that these will be the most confusing birds, and will show a birder which species he or she needs to concentrate on when identifying an unknown.  It does ratchet up the intimidation factor a bit, and provides an interesting contrast to Kaufman's pictorial table of contents. 

Sibley hasn't made every advanced birder happy.  The range maps show breeding, winter and migrant ranges, along with green dots for isolated out-of-range records.  Sibley meant these dots to illustrate a general pattern of vagrancy, but some birders felt the placement of these dots should be more accurate.  Also, Sibley stays away from Latin names for subspecies, even those that have entered birders' patois.  Instead, he names varieties by bioregion, often combining two or more subspecies.  For example, Sibley's "Taiga" Orange-crowned Warbler includes both celata and orestera subspecies, which some Oregon birders maintain are separable in the field.  On the whole, however, Sibley does a great job in portraying intraspecific variation, compared to other general guides.  Specialists will want to augment Sibley with guides to bird groups (such as Dennis Paulson's excellent Shorebirds of the Pacific Northwest).  Sibley's responses to the
coloration and range map criticisms
and the
issue of subspecies
are on his website.
Sibley is the first guide I go to with a question, and the one I pack on most excursions.  The sheer volume of information means that I'm more likely to find what I'm looking for.  For example, I ran across a juvenile bluebird without its parents nearby, at a forest edge where both Mountain and Western Bluebirds are regular.  National Geographic illustrates a juvenile Eastern Bluebird, but no juveniles of the other species.  Sibley, on the other hand, provides illustrations of both Western (similar to Eastern in this plumage) and Mountain juveniles, as well as a key field mark for differentiation.  By focusing my attention on the juvenile's spotted back, Sibley allowed me to identify the unknown as a juvenile Western Bluebird.  That, to me, is what field guides are supposed to do.